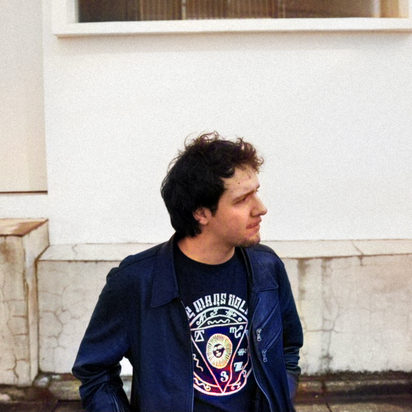 Bienoise is Alberto Ricca. He composes computer music, with a deep fetishism for non-musical suggestions, computational noise, listening and contemplation.

He authored, with the dancer and choreographer Annamaria Ajmone, the contemporary dance piece TO BE BANNED FROM ROME, whose 'Main Theme' has been the first release of the curatorial C2C Festival Label. He also works with the movement research collective Parini Secondo, with whom he wrote i (2018), Romegna Mia (2019) and SPEEED (2020).


His 'Most Beautiful Design', a minialbum of compositions for low-fi mp3s, has been published on floppy disk in 2018 by the relaunched cult label Mille Plateaux, which will also release his latest album "This Meaning Today" in june 2022.
In 2014, he's been the italian participant at Red Bull Music Academy in Tokyo.
In 2015, he released Meanwhile, Tomorrow, considered by many italian music magazines one of the albums of the year, on White Forest Records. In january 2018, Bienoise released on Enklav the celebrated Sharawadji III, a free-form techno EP oscillating between analog and digital sounds. He also released on Concrete records (Small Hopes of Common People 2015), Bitcrusher (Sono una Teiera Tonda TondaIl mio beccuccio è a forma d'onda, 2010) and Yerevan Tapes with his duo Merchants.


Since 2019, Radio Raheem Milano hosts his monthly selection of involuntary compositions called NON MUSICA.
He co-founded with Davide Merlino the radical improvisation label Floating Forest Records.


In 2014, he completed his bachelor in Electronic Music and Sound Technologies at the Como Conservatory.
In 2017, he started teaching Synthesis (I) and Performance Techniques (II) at IED - European Institute of Design in Milan.


He's not a dj.